CEO of RAC MiG, Sergey Sergeevich Korotkov, told us about start of implementation of the contract's second phase: "The Indian party asked us to demonstrate the landing of the fighter on aircraft carrier and air ordnance delivery in the network of contract on delivery of 16 MiG-29К/КUBs two years ago. "
Sergey Korotkov:
We have successfully performed the demonstration and India has taken the decision on shipping of the ready fighters. At present, we have delivered 11 jets to India.
- "They are successfully operated and have more than 1000 hours of flight time. We will deliver the rest 5 fighters this year. Another optional contract on 29 aircraft has been signed in parallel. The first jet has been installed in aggregate assembling holding frame today and it is a milestone event for us. We have started performance of the Indian contract's second stage".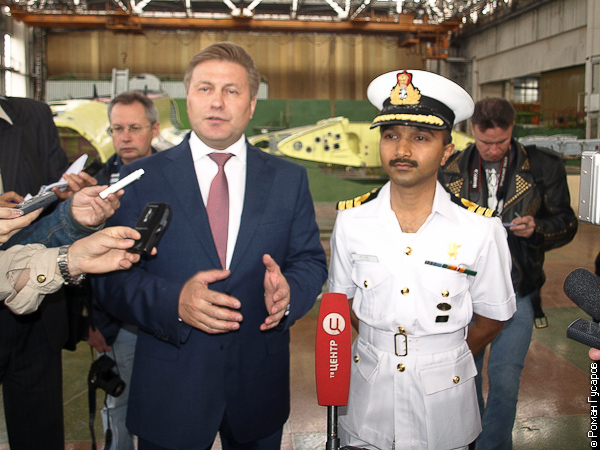 CEO of RAC MiG, Sergey Sergeevich Korotkov and head of Indian projector group in Russia, Commander Radzhesh Niser
The head of Indian projector group in Russia, Commander Radzhesh Niser, has taken part in the embedding of a new jet. He is responsible for tracking all the stages of contract implementation and solving problems arising during it. Commander Radzhesh Niser in his own turn considers this event as a success for RAC MiG in promotion of MiG-29К/КUB. Indian pilots like this jet in spite of using different types of aircraft before. They understand that it is a different vehicle with more capabilities.
The initial training of Indian pilots on MiG-29K/KUB, practicing of takeoff and landing at the carrier's deck will be taking place in Ukrainian NITKA complex. India is constructing its own takeoff/landing ground.
According to Korotkov, the High Command of Russian air forces and naval forces are ready to acquire 24 jets and the contract is being formed at the moment. The Ministry of Defense has formed the requirements specification, which will be formalized in the contract liabilities. The contract signing is expected in August. The program of unmanned aircraft is also being implemented at MiG. MiG and Sukhoi had their own groundwork before, but now the design bureaus have joined their efforts in the network of UAC and are developing UAVs in cooperation. Sukhoi will be the lead developer and MiG will be the primary supplier, while the groundwork of the design bureaus will serve as the basis of this project.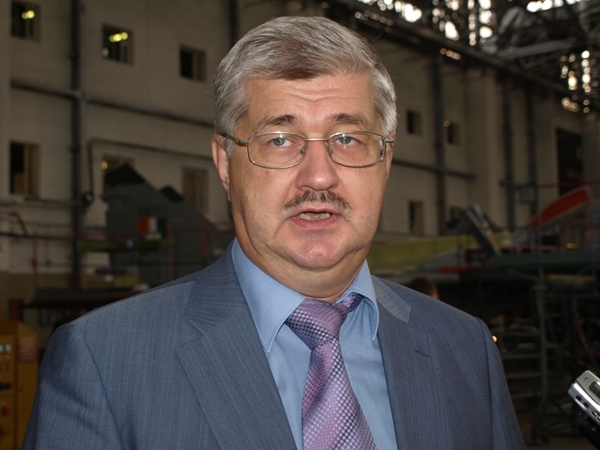 Vladimir Barkovsky, head of MiG's engineering center
As reported by the head of MiG's engineering center, Vladimir Ivanovich Barkovsky, RAC MiG is also performing contract on delivery of 20 MiG-29s to Myanmar and a contract on modernization of Indian air forces' MiG-29s. "It is a complete modernization of the jets delivered earlier. The jets will be equipped with new radar, avionics, aircraft control and navigational equipment and new weapons. 6 jets will be modernized in Russia (4 in Moscow and 2 in Nizhny Novgorod), after that the modernization technology will be transferred to India. Using this technology they will modernize 60 more jets at their MRO base. MiG will supply modernized kits and weapons to India within the framework of this contract ".
Multi-role shipborne MiG-29K fighters (one-seated) and MiG-29KUB (two-seated) belong to the «4++» generation. The jets have an advanced airframe with a high share of composites, digital integrated fly-by-wire with quad redundancy; significantly lower radar visibility, increased capacity of the fuel system and operational load, open avionics architecture.
MiG-29К/КUB is equipped with the state-of-the-art multi-role and multi-mode pulse-doppler airborne radar "Zhuk-ME", multi-channel optical station and target designating system with passive homing heads of anti-radar missiles.
It carries guided air-to-air and air-to-surface missiles, glide bombs, unguided rockets, air-delivered bombs and it also has a 30-mm gun.