FIDAE was established as the vicinal exhibition, but now it is one of the largest shows in South America. The testament of its status is the number of brasses and specialists, who arrived in Santiago in the first month of Chilean autumn.
The fact that Boeing and Airbus have presented their advanced aircraft - Boeing 787 Dreamliner and Airbus А380, confirms the significance of FIDAE. Clearly it was the presentation intended not only for Chilean market, but also for guests from other countries of the region. Moreover, such demonstration of power by American and European aircraft industry is a good support for the image of other enterprises from these countries, which promote their civil and military products in Chile. And they came up trumps, a lot of guests stood in line in order to see the cabin and cockpit of both jets.
But the first thing that catches the eye is FIDAE's military orientation. And this is not surprising, the exhibition is held under the patronage of Chilean Ministry of Defense. The Chilean armed forces acquire a reputation of the most well-trained and advanced ones at the continent. The Chilean army has almost the same level of expertise and equipment as the armed forces of developed countries. Modernization and technical capabilities build-up are being carried out constantly. The region's highest Per capita GDP indicator also contributes to the process.
And it is not a quiet region. Chile is far from having a good neighborhood with all the neighboring countries. Every country of the region is paying a close attention to the rearming programs of its neighbors and taking return moves in order to turn the balance in its own favor. That is why not only aviation but also small arms and missile systems are presented at the exhibition.
I would divide the exhibitors into several most significant groups by their representation: Companies from USA and Canada, Europe, Israel, Russia, other countries. The proximity of USA is remarkable and their display was the most impressive one (both in the pavilion and static display area). North America has demonstrated combat and transport aircraft, tankers and helicopters.
Europeans were trying to keep up and "occupied" the whole pavilion too. The participants of the exhibition applauded to the wonderful pilotage of Italian "Spartans" on С-27J aircraft. But the new military-transport A-400M aircraft, which has already been ordered by Chilean air forces, was the most interesting showpiece of the European aircraft industry.
The Israeli display was also notable (it shared the same pavilion as the Russian one). Israel has presented a lot of small arms samples, missiles and UAVs. Generally, Israeli display seemed to be the most advanced and interactive. The Israelites have even constructed stereo-cinema for demonstrating their achievements. The only thing that makes you want to leave as soon as possible is the feeling of being under the vigilant surveillance of strong shaven-headed guys (I call them "Mossad's representatives"), which are eying up the sigh on your badge.
And of course the Russian display, which has been attended by many high officials and brasses of the region. It was formed by exposition of United Aircraft Corporation (UAC), Rosoboronexport, Russian Technologies, Russian Helicopters and stand of St. Petersburg-based Transas company. Unfortunately we did not bring any natural exhibits to Chile this year – only models were demonstrated at the stands. But we can tell by the number and "quality" of visitors that our vehicles are well-known and interesting for the customers. Russia has been the traditional participant of the exhibition since 1994. Time after time the best Russian vehicles have been demonstrated in the sky of Santiago, including "Su" and "MiG" fighters. A group of Chilean parliamentarians has performed familiarization flight on board of Mi-17 during FIDAE-2002. Ka-32 helicopter and the unique amphibian aircraft - Be-200 have performed demonstration flights at the exhibition in 2008 and 2010 respectively.
The latest products of our aircraft industry have been demonstrated on UAC's stand: Su-35, Yak-130, Sukhoi Superjet 100 and MS-21. Obviously Russian civil aircraft have slim possibility of winning the market dominated by Embraer, Boeing and Bombardier. However the visitors have taken keen interest in Russian combat aircraft, especially Yak-130 operational trainer. According to the head of Rosoboronexport's department for analysis and advanced planning, Sergey Svechnikov, at present the interest in this jet has significantly increased: «I believe that Yak-130 will be delivered to this continent soon». Now the air forces of several countries are considering the possibility of acquiring Yak-130. Irkut Corporation has even reported that negotiations with the Commanders-in-Chief of Argentinian, Bolivian, Paraguayan and Uruguayan air forces have taken place in the network of FIDAE. Su-35 has not been overlooked either. At present Venezuela, Argentina and Brazil are considering the possibility of purchasing these vehicles. The jet has great capabilities, but it is reasonably expensive. Taking a decision on acquiring such combat system is a complicated process, - Rosoboronexport says, - but sooner or later the quantity will turn into quality and the sales lift will take place.
Reference.
Yak-130 operational trainer. It may be used not only for pilot training but also as a light attack aircraft. It is efficient and has a high level of safety; its control system is able to simulate the flight on different types of fighters. The cockpit of Yak-130 is equipped with large (6х8 inches) color multi-role displays, which are completely on a par with the glass cockpit concept and the jet's controls conform fully to HOTAS concept. Yak-130's payload is 3 tons. The aircraft is equipped with different types of guided and unguided weapons.
Su-35 multi-role fighter. The fifth-generation technologies have been used during development of this super-maneuverable fighter. In addition, among other Su-35's features are the advanced 117S engines with increased thrust and operational life, aircraft hardware including digital information-management system and Irbis-E radar with phased antenna array capable of detecting targets at a distance of 400 km. All these features provide its superiority as compared to fourth-generation fighters.
Besides Su-35 and Yak-130 Rosoboronexport is also promoting other products at this market. The special attention was paid to military-transport Mi-17 and Mi-35M helicopters, air defense facilities, in particular, Igla man-portable air-defense system, Tor-M2E and Buk-M2E anti-aircraft missile systems. As for the land forces' equipment, the new Kornet-EM antitank weapons system and modernized T-90S tank are also being promoted. For more details please read the following Sergey Svechnikov's interview: «Success depends on whether we choose the right marketing policy».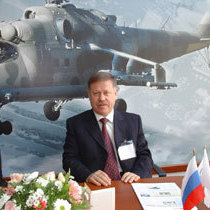 The deliveries of advanced Russian combat aircraft to the region are a matter for the future, but the presence of state-of-the-art Russian helicopters in Latin America is fait accompli. Sale of combat Mi-35M helicopters to Brazil was the significant milestone. «We have already delivered a batch of Mi-35Ms to Brazil and we will try to deliver more soon. Thanks to the new VK-2500 engine the helicopter may be operated in hot climate with minimum loss of performance. The helicopter also performs well under conditions of high altitude. Ithasnewinstrumentationpanelandcontrols. This is anything but Mi-24 as some people believe. It is the advanced vehicle created on the basis of widely recognized solutions. But it is made of different materials; it has different electronics and so on. The layout of Mi-24 is so successful that Mi-35 created on its basis is very popular among potential customers», - Sergey Svechnikov said.
Two Mi-171E helicopters made by Ulan-Ude aviation plant have been delivered to Argentinian air forces in December 2011 and the contract on delivery of three more vehicles is being elaborated. These helicopters will be used for supporting the polar explorers in Antarctic. Argentina is also taking interest in light Ка-226Т helicopters. Possibly this refers to joint assembly of these vehicles in Argentina.
Sergey Svechnikov also told that urgent delivery of helicopters to Peru has been carried out: «Although all of our enterprises have a high workload, we have managed to find such possibility. 6 Мi-171Еs and 2 Мi-35Ps have been delivered to the customer. Now we are offering package deal approach for personnel training. In other words, we are not just offering simulators, classrooms and different training aids; we have carried out analysis and calculations for the customer in order to define the best way to organize the training, minimize the costs and provide the highest quality of training. And our offers are exciting a great interest».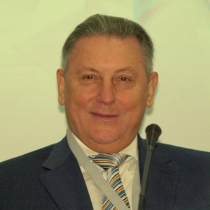 The negotiations on delivery of Mi-17 helicopters to Chilean Ministry of Defense have been resumed (two years ago the signing of contract on delivery of 5 helicopters has been wrecked by crisis and earthquake). It was declared by the head of International business and marketing department of Russian Technologies state corporation, Sergey Goreslavskiy, during the press-conference of Russian delegation at FIDAE -2012. By the way, a funny incident has taken place during the press-conference. One of the attendants has suddenly got up and asked our delegation: «When will you deliver 7 Ka-32 helicopters to Brazil?». He received the answer that Russia has no such obligations yet. Andheanswered: «ButIhaveacontract». It was found out later that the eccentric foreigner has signed a contract with «Petrobras» state company (Brazil) on performance of aerial work. AndKa-32helicoptersareforthejob. That is why he is interested: how soon would Russia be ready to deliver such helicopters to him. Such a funny and illustrative incident.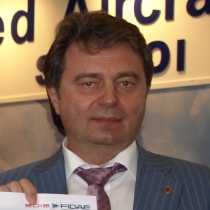 As reported by the head of Marketing department of Russian Helicopters, Mikhail Dubrovin, the fleet of Russian helicopters in Central and South America includes about 400 vehicles (around 22% of the market). 20% of them are military and multi-role helicopters, only 2% — the civil ones. At present Russian Helicopters is trying to draw the customers' attention to the civil products. All the more so as there are new products in this segment, which meet the region's requirements.
Russian Helicopters intend to certify Ка-226Т and Ка-32 helicopters in Mexico. «There is a large fleet of Russian helicopters in Mexico, but most of them are operated by the country's armed forces. There is a severe competition in the civil segment provided by the American manufacturers. We will promote our products at the state civil and commercial market", - Dubrovin said.
The multi-role Ка-32А11ВС helicopter has received the type certificate in Brazil in November 2011. In late-March 2012 Russian Helicopters have delivered the first helicopter to Helipark Taxi Aereo (2 vehicles have been ordered). The delivery has been unveiled on the first day of FIDAE-2012. Ка-32А11ВС will be used for commercial transportation of suspended load in hard-to-reach regions of Brazil located in the Amazon river basin. Atlas Taxi Aereo has purchased two Russian transport Mi-171A1 helicopters in November 2010. The vehicles have the Brazilian certificate for operation on behalf of Petrobras oil and gas company. At present Ка-32А11BC is certified in the world's largest regions: North and South America, Europe and Asia. In particular, the helicopter has received the type certificate in Brazil and India (2011), in Europe (2009, EASA.IM.R.133 certificate). Ка-32А11BC has been certified in China, Indonesia and South Korea in 2008, in Chile (2007) and in Mexico – in 2005. The helicopter has acquired a supplement to the type certificate in Canada in 2006, which allowed transportation of official passengers (the original certificate has been issued by Canada in 1998).
Reference.
Ка-32А11ВС is a multi-role version of Ка-32А helicopter. The vehicle may be used for transportation of suspended loads and as a flying crane helicopter for mounting of high-rise constructions. The coaxial arrangement of Ка-32А11ВС gives it several significant advantages in the area of hovering precision and helicopter's maneuverability, thus the vehicle is able to perform complex mounting operations. Ка-32А11ВС is able to perform a wide range of tasks, including horizontal high-altitude fire-fighting using water cannon.
It stands to mention Transas company, which participated in the exhibition independently. Its scope of activities was a real revelation to me. Transas delivers simulators and other equipment to all the countries of the world. Nowadays 45% of global civil maritime simulators market is owned by Transas. These simulators are acquired by UK, USA and other developed countries. Transas has 100% of the navigation charts market. Small-arms training systems are very popular. And we know this company as the manufacturer of aviation simulators. The Full-Flight Simulator for An-148 has recently been installed in Moscow Region. And it is better and more advanced than the foreign ones standing next to it.
Oh yes, I have almost forgotten. The "traces" of our aircraft industry presented on the stands of foreign manufacturers.
And now some words about Chile. It is a beautiful and distinctive country with communicable people, diverse and very tasty cuisine. Santiago resembles the cities of Southern part of Europe. However you may meet the natives of Northern Europe in Santiago too. Thanks to several waves of immigration the descendants of German and French frontier man form a large part of the population. Chile is absolutely worthy of visiting.
And finally about the exhibition. It has been a pleasure to see the real fair of advanced world developments instead of aviation museum.