3rd FAI World Aerobatic Yak 52 Championship will be held in June, 23-30, on Airport FINAM (Moscow Region, Bolshoe Gryzlovo).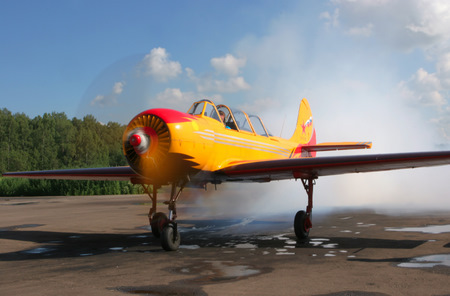 The World Aerobatic Championship 2012 is a remarkable event for Russia since our country has started the history of YAK-52 aerobatic competitions. The future championship will be held in Moscow Region for the first time.
The Yak-52 was designed originally in the Yakovlev construction Bureau as an aerobatic trainer for students in the Soviet DOSAAF training organization, which trained both civilian sport pilots and military pilots. The aircraft is still occupies a special place in the world's aviation.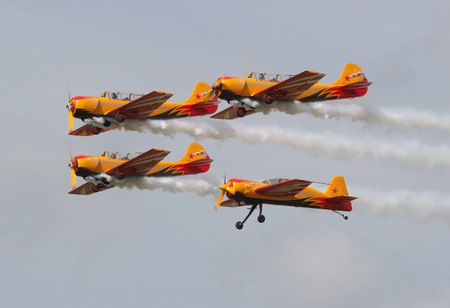 The first World Aerobatic YAK 52 Championship was held in June 2008 in Novosibirsk. 25 pilots from 7 countries have participated and a Russian pilot Anton Berkutov was an absolute winner. The second Championship occurred in Lithuania and Russian pilots succeeded again with Alexander Myakishev as a first winner. Russian pilots also won team competitions in both championships.
Participants from more than 10 countries will attend the third Championship in Moscow. Most experienced pilots, contending for the first prize, will demonstrate impeccable craftsmanship and excellent results. The Championship will gather many specialists, viewers, journalists and celebrities. Russia is an acknowledged leader in the air sport and such championship will attract attention not only as a sport competition, but also as a cultural event.
Championship organizers:
- Airport FINAM (Moscow Region, Bolshoe Gryzlovo).
- Moscow Air Sports Federation
With the support of:
- The Government of Moscow Region
- Administration of the Serpukhov District
- Federation of Aircraft Sports of Russia
- Federation of Aeronautical Sports of Russia
- The Center of the Moscow Region Technical Sports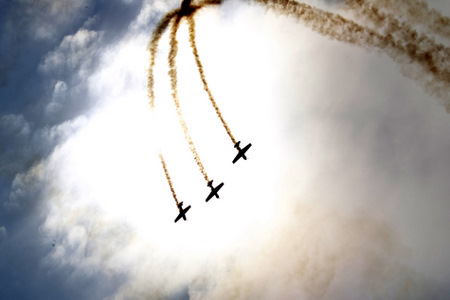 The program includes four stages: mandatory flight, arbitrary flight and two "dark" flights. The flights are performed in a limited space. Violation of boundaries will result in penalty points. Excellence of a pilot is a crucial factor for judges since all pilots perform on the same type of aircraft, the YAK-52. A pilot, who gained maximum amount of point in all stages, becomes an absolute world winner performing on The YAK-52 aircraft.
A Russian crew has a recognizable style aerobatics and it gives an example of excellence for many other pilots. From year to year performance of our pilots obtains the highest estimation as international judges as competitors and visitors. Time will reveal a winner of this year.
June 23-30, 2012. Moscow Region, Serpukhov District, Airport FINAM (Bolshoe Gryzlovo)
The organizers of the competition are FINAM airfield (Bolshoye Grizlovo) and Moscow Air Sports Federation.
The general media partner of the championship is AVIA.RU website.
To contact the championship organizers, please, send an email to Natalia Filyayushkina at natalia@1polet.ru