The formerly closed enterprise now hospitably opens its doors for foreign delegations and mass media. Meanwhile the IAP's products have already been well-known all over the world for a long time – these are Su-30MK fighters. Many believe that the enterprise just got lucky – if any other plant would have this jet in its production range, it would have also felt confident. However, to have a competitive advantage and to use today's success wisely establishing basis for future success is not the same.The future of the enterprise is connected with MS-21 passenger aircraft, Yak-130 combat trainer and participation in international cooperation.
A large descent of mass media representatives has footed in the territory of IAP on July 18th. The president of Irkut Corporation, Alexey Innokentievich Fedorov,and Director General of IAP, vice-president, Alexander Alekseevich Veprev, have met us near the entrance to recently put into operation workshop of fluorescent-penetrant inspection, and our excursion has begun.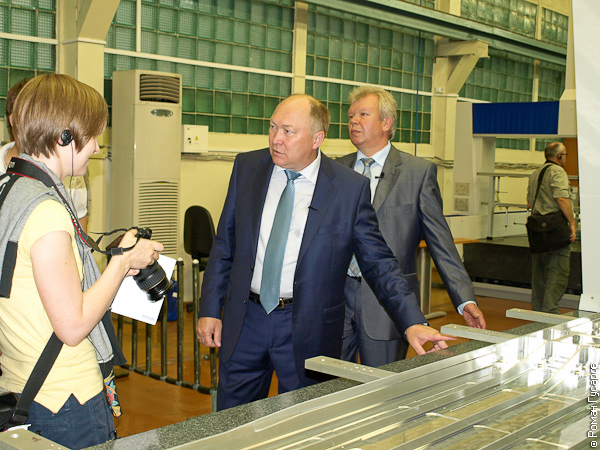 The president of Irkut Corporation, Alexey Innokentievich Fedorov and Director General of IAP, vice-president, Alexander Alekseevich Veprev
Our reference:
Irkutsk aviation plant –main production site of Irkut Corporation. ОАО «Scientific and production Irkut Corporation (Irkut Corporation) – vertically integrated company, providing the whole operation cycle on development, production, sales and post-sales support of military and civil aircraft. The Corporation's share in the Russian arms export is about 15%. Ministry of Industry and Trade has awarded Irkut Corporation with a title of best exporter in the category "Aircraft industry (aircraft manufacture)" in 2008, 2009 and 2010. The Corporation's revenues were $1 672 650 thousand in 2010 (in accordance with IFRS). It is twice as large as the similar indicator in 2006 ($832 107 thousand).The gross margin was $693 882 thousand in 2010, which is 42% of the revenues. The net profit was $85 546 thousand in 2010. The Irkut Corporation's order backlog as of the beginning of 2011 exceeded $6 billion.
A powerful engineering center named after A.S. Yakovlev affiliated with Irkut Corporation has been formed in 2009. It is specializing on development of passenger aircraft, combat trainers and light aircraft. Yakovlev design bureau has become the basis for forming the Center. The Corporation is formed by: Irkutsk aviation plant, Taganrog Aviation Scientific-Technical Complex named after G. M. Beriev, Yakovlev design bureau, BETA AIR, etc. Irkut Corporation has been forming part of United Aircraft Corporation (UAC) since November 2006.
The present basis of IAP's production program is multi-role Su-30MK fighter. Su-30MK fighter is selected as the main combat jet for the air forces of India (Su-30MKI), Algeria (Su-30MKA) and Malaysia (Su-30MKM). More than 300 jets have been ordered and more than 150 of them have already been delivered. Irkut Corporation performs contracts on deliveries of technological kits for licensed production of Su-30MKI by the Indian HAL Corporation. Rosobornexport has signed a contract on delivery of additional batch of Su-30MK fighters to the Algerian air forces in 2010 and there are some prospects for further increase of order backlog.
It is the first serial jet having the supermaneuverability and the world's first export fighter equipped with phased-array radar system. The preparation for comprehensive modernization of Su-30MKI jets of Indian air forces is being carried out now. At present Russian and Indian specialists are coordinating the technical face of modernized "Super-30" jet, equipped with airborne radar with active phased antenna array. The jet will be able to use advanced weapons made in Russian and foreign countries. The work on integration of supersonic anti-ship BraMos missile in the Su-30MKI's weapon structure is being carried out in cooperation with Indian partners. This may open new market prospects for Su-30MK fighters and Russian-Indian BraMos missiles.
In spite of this jet being one of the world's most popular multi-role fighters, our air forces still have no such vehicles. It is reported that president of Russia, Dmitriy Anatolievich Medvedev, was very surprised by this fact during visiting the plant. «At present the enterprise is assembling two Su-30SMs. It is planned to start their flight testing in the end of this year», - said Alexey Innokentievich Fedorov. Su-30SM aircraft is a modification of Su-30MKI adapted to the performance specifications of Russian Ministry of Defense. There is a possibility of signing contract with the Russian air forces on delivery of 18 Su-30SMs in 2012 with an option on 12 more jets for the navy.
However, the enterprise understands that success of Su-30MK is not the reason to rest on oars. The world's leading aviation nations are developing and refining the fifth-generation aircraft. According to the specialists' assessments, the demand for Su-30MKs will remain during the next ten years. And what's next?
Until recently a unique multi-role Be-200 amphibian aircraft was a part of IAP's product line. It is intended for fire-fighting, search and rescue missions, maritime patrol missions, ecological monitoring and cargo-passenger transportation. At present IAP is transferring the production of Be-200 to another Irkut Corporation's enterprise - Taganrog Aviation Scientific-Technical Complex named after G. M. Beriev.
Irkut Corporation has delivered 4 Be-200ChS aircraft to the EMERCOM. One aircraft has been delivered to the Ministry of Emergency Situations of Azerbaijan in 2008. In 2010 government of Russia has taken a decision to acquire 8 more Be-200ChSs for EMERCOM. The EMERCOM's aircraft are taking part in fire-fighting in Russia and foreign countries. Negotiations regarding delivery of Be-200 to some foreign countries are in progress. Be-200ChS-E aircraft has received EASA certificate in September 2010.
The new advanced product of IAP is Yak-130 combat trainer developed by Yakovlev design bureau. This jet has been selected by the Russian Ministry of Defense as the basic trainer for initial and advanced training of Russian air forces' pilots. Yak-130 provides capabilities for an advanced training of pilots for Russian and foreignfourth- and fifth-generation combat aircraft. The aircraft is a part of training facility including integrated system of objective control, training computer classrooms, flight and special trainers.
The state testing of Yak-130 with arms has been completed in December 2009 andthe deliveries of jets to the Russian air forces have been started in February 2010. The contracts on deliveries of Yak-130s to international customers are also being performed. Negotiations on deliveries of the jets to several countries are in progress. The market capacity for Yak-130 aircraft is assessed at 250 jets until 2015. The jet is manufactured using state-of-the-art digital technologies, it has a great potential for modernization and it will stay relevant during several decades.
Another advanced area is a program of international cooperation.The program assumes manufacturing of components for Airbus A320 family aircraft. The batch deliveries of components are being carried out since 2008 in accordance with a contract signed in December 2004. It is the only certified factory working on Airbus in Russia. The IAP is producing three types of products for Airbus in accordance with contract: flap guide rails, antitorque rotor pylon and nose wheel bay of A320. At present the enterprise is manufacturing 12 kits per month. It means that the kits made by IAP are installed on 144 delivered Airbus aircraft.
In spite of this being only a production of components, the enterprise is proud. These are rather difficult components and the most important thing is that the new technologies and production standards used by the enterprise are opening new prospects for future aircraft industry. The gained experience will be used in advanced projects like MS-21.
The next-generation MS-21 passenger aircraft is the main advanced project of Russian aircraft industry in the civil aviation segment. You can read about this project and preparation of its production in the continuation of this material - «Airliner of the 21st century».
author's photo